With millions of people around the US and the world switching from an office environment to a series of work-from-home policies, we find that many people are meeting with their colleagues virtually a few times a week via video software…and not everyone is prepared for the change.
We're sure many of you have seen the series of hilarious Zoom Meeting Fails circulating around the internet. And any of you have had your own awkward interactions with coworkers who are having difficulty navigating the new workflow. But if you are concerned that maybe you aren't using the video tools to the best of your abilities, here are some great tips to make sure your team members can see and hear you clearly!

Declutter Your Environment
We get it, you're working from a home you share with a spouse, children, and pets; it can be difficult to set aside a professional space in a lived-in house. But there are a few things you can do to set your space up for success when attending video meetings.
Choose a quiet, clean space (try to choose an area that kids and pets won't accidentally walk in to)

Clear any clutter that the camera may pick up (used clothes, dirty dishes, toys, general clutter, etc.)

Turn off any electronics (television, radio, and any other electronics that could be a distraction)

If you're unsure how your space will look on camera, do a test run. (open your computer's local camera application and check out the view.)
Lighten the Load
You don't want to spend time finding the perfect space to attend your virtual meeting only to find that you're so shrouded in shadow that nobody can see you. Spend a few minutes with your computer camera on evaluating if it is easy to see you from your chosen location. Try to avoid overhead lighting which can create harsh shadows on your face or too much backlight which can completely shroud you in darkness.
Natural light works best for illuminating your face, but in the absence of a beautifully sunny or perfect bay window, a lamp can work just as well. Simply find a lamp in your home with a lampshade and cool-toned lightbulb. Plug it in and set it up just behind your computer. The lampshade should diffuse any harsh light, and you should be illuminated enough to be seen well in your meeting.
*DFTip : need a quick source of light? Turn your computer monitor's brightness all the way up, then open a blank word document. The added light will help illuminate you more than you'd expect!

Dress for Success
Looking your best begins before you turn on your computer; it starts with getting dressed. Your attire and makeup should be similar to what you'd typically wear to an in-office meeting. If you work in a highly professional environment, make sure you reflect your position with the appropriate attire. If your office is generally more casual, feel free to dress more flexibly – but keep in mind – once the cameras are on, you are participating in an office space. Clean, well-maintained clothing is a must. And please wear pants.
Keep in mind that certain clothing and accessories don't translate well in virtual meetings. Clothes with busy patterns or sparkles may be distracting for the person viewing you from their computer. Jewelry that jingles can also be excessively loud for a computer microphone.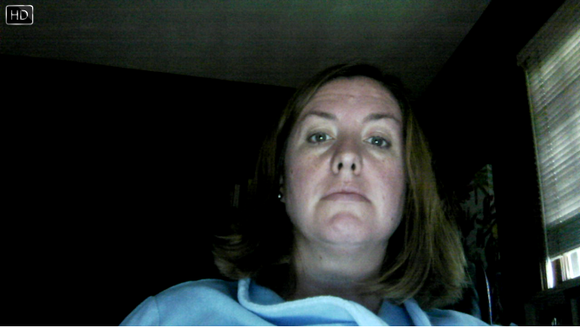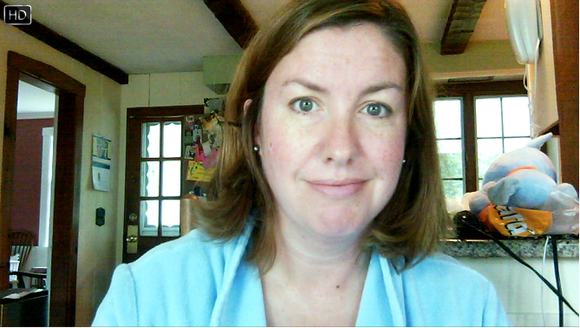 Find Your Angle
Once you've set up your computer and lighting source, it's important to make sure you're positioned correctly in front of the camera. Most experts recommend placing your computer on a small shelf our stack of a few stable books, lifting the computer to a more flattering angle.
Do your best to position yourself in a way that reflects how close you normally speak to people. Getting too close to the camera is uncomfortable and sitting too far from the camera makes it difficult to see or hear you effectively. Try to include your head and shoulders in the image, and sit up straight as you would in a normal meeting to show interest in the topic at hand.
Keep Distractions to a Minimum
We get it, it's easier than ever to grab a snack or play on your phone when you should be working. But trust us: you aren't as sneaky as you think you are when you check your phone while in a virtual meeting. Even the most minor movements in these meetings immediately catch the attention of everyone in attendance. Take the time to put your phone on silent for yourself and your peers.
And while you're removing distractions, here are a few other tips to keep in mind:
Try to look into the lens, not at yourself. (It helps to translate that you are making eye contact.)

Try not to touch your face or hair too much. ( Fidgeting can be very distracting.)

Utilize the 'chat' feature when you don't want to interrupt a colleague's thought. (most web-meeting platforms have this option.)
Make sure to mute yourself when you aren't speaking to quiet any unforeseen background noise.
Go with the Flow
In the end, we are all adapting to a new way of doing business. If your internet connection performs poorly, lighting isn't quite right, or your kids run through the background of your meeting, it's not the end of the world. Having patience with each other will help us adjust to this style of work while we continue to work as best we can in the current climate.